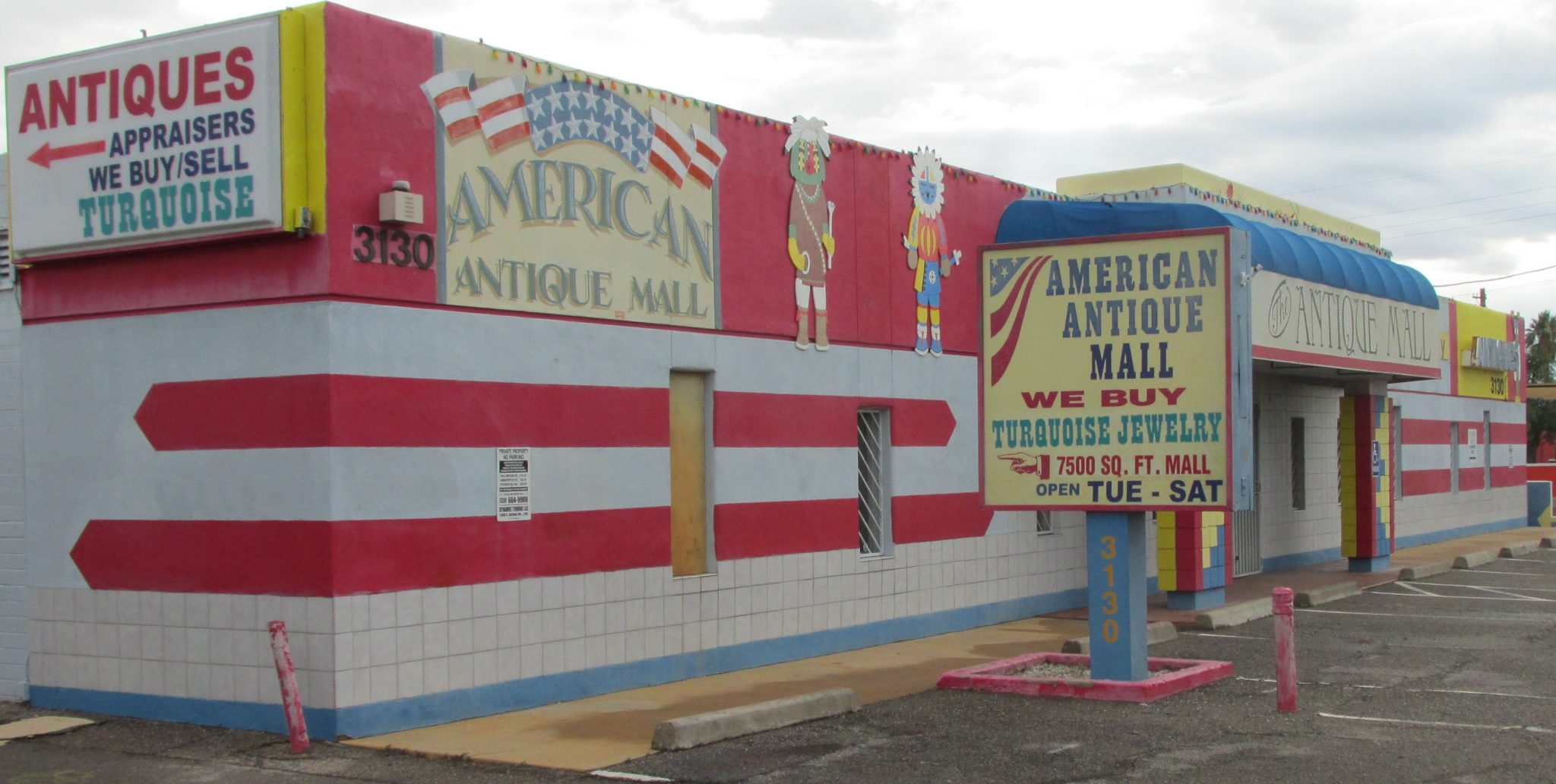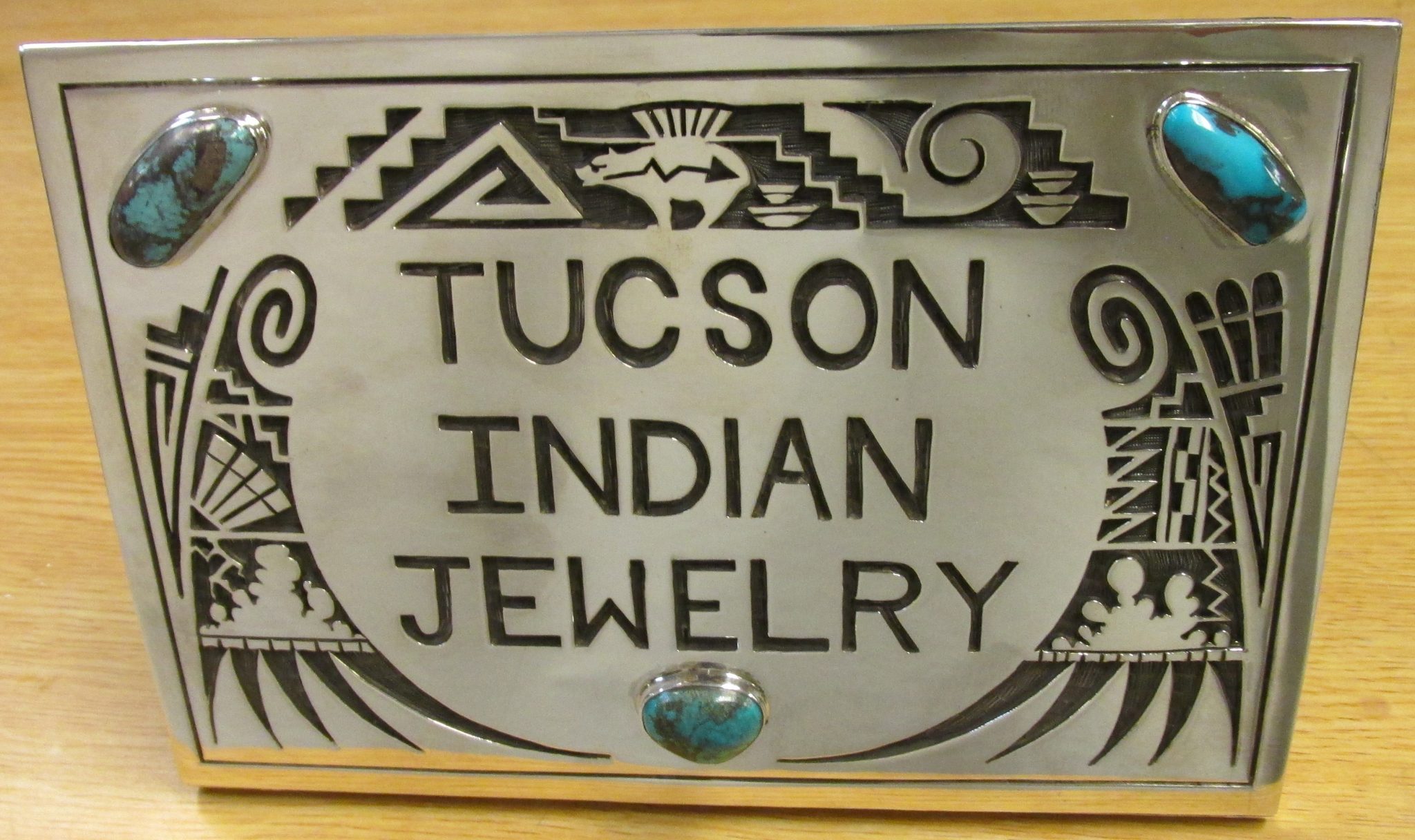 SHOP 24 HOURS A DAY AT:
WWW.TUCSONINDIANJEWELRY.COM
https://www.facebook.com/tucsonindianjewelry
COME AND SEE THE WONDERFUL SOUTHWEST NATIVE TURQUOISE JEWELRY WE HAVE TO OFFER! (We also buy! )
3130 E. Grant Road, Tucson,  Arizona (Inside The Antique Mall)                            Phone (520) 419-1270
3130 E. GRANT ROAD @ COUNTRY CLUB (Southeast Corner by Temco)
SOUTHEAST CORNER – between ChickeNuevo & Temco Air Environmental
LIGHT BLUE BUILDING 

w/ red stripes

directly ACROSS FROM Doolen Jr. High
LOOK FOR OUR

red

, white, and

blue awning

and BLACK CIRCUS elephant!
TUCSON ARIZONA 85716   ↓   ↓   ↓   ↓   ↓
Tue.             10:00 a.m. to 5:00 p.m.
Wed.            10:00 a.m. to 5:00 p.m.
Thur.            10:00 a.m. to 5:00 p.m.
Fri.              10:00 a.m. to 5:00 p.m.
Sat.             10:00 a.m to 5:00 p.m.
(Closed Sun. – Mon.)    CLOSED
We're available 7 days a week – even if our store is closed!
Cell phone: 

(520) 419-1270 

9:00 a.m. to 5:00 p.m. 7 days a week

Email: 

dwightandchristy@gmail.com  

24 hours a day
Dwight & Christy Schannep, Native American Indian Jewelry Dealers
Located

in Tucson, Arizona inside the American Antique Mall at 3130 E. Grant Road ( @ Country Club ), 85716. Look for our red, white, and blue awning.

Vintage

 handmade Native Southwest turquoise jewelry: Navajo jewelry, Hopi jewelry, Zuni jewelry, and Santo Domingo jewelry is on display, offered through a number of our consignors. Many pieces have the artist's identifying mark(s).

AMERICAN TURQUOISE

Modern

 handmade Native Southwest turquoise jewelry made with spiny oyster, silver, coral, turquoise, mother of pearl and other natural materials. Many pieces have the artist's identifying mark(s).

MADE IN AMERICA

Non-Indian

 (Tucson artisian) Southwest style turquiose jewelry from:

FRANK PATANIA Sr. &  Jr.  * The Thunderbird Shop

CARLOS DIAZ

ALBERTO CONTRERAS
WE BUY & SELL:
TURQUOISE & SILVER JEWELRY

(Single pieces to entire collections).

TURQUOISE

CABOCHONS

AND TURQUOISE SLABS

TURQUOISE

ROUGH

( NATURAL TURQUOISE ROCK )
WE ALSO BUY & SELL LAPIDARY AND SHOP EQUIPMENT:
Diamond Pacific © Highland Park © and Loritone © Cabbing machines
Flat Laps
Rock Saws
Lapidary Tools
Jeweler's Benches                   

  

  
The following are all Kingman turquoise and sterling pendants:
Note the huge variation in patterns in the following stones from the same mining district.
WE ALSO SELL:                                                                                                  
ROUGH TURQUOISE FOR YOUR LAPIDARY PROJECTS

COLOR MATCH CABOCHONS FOR MISSING OR BROKEN STONES
* TURQUOISE NUGGETS FOR ART PROJECTS OR FILLING WOOD CRACKS IN VASES / TABLES
* PRE-CABBED TURQUOISE TO MATCH MISSING OR CRACKED STONES IN YOUR EXISTING JEWELRY FROM LIGHT BLUE TO DARK GREEN. * These pictures are representative of the turquoise that we have in stock.  Our inventory is constantly changing, so the stones you see may or may not be currently available.  Upon request, we can take current up-to-date pictures.  Minimum mail order is $50.00.
CLICK ON ABOVE PICTURE FOR A MAGNIFIED VIEW ↑ 
Old Pawn Jewelry 1990-2021 © Schannep Ventures L.L.C. ALL RIGHTS RESERVED
The American Antique Mall is located in the heart of Tucson's oldest antique shopping district. Since opening over 20 years ago in September of 1993, we are THE destination for antique shoppers from Tucson and around the world!  We are constantly complimented as having the best quality of merchandise in Tucson!
The American Antique Mall is Tucson's oldest antique mall and has been honored with many distinguishing awards and published articles. We have won the prestigious "Best of Tucson" award for six years by The Tucson Weekly readers and staff. We won the "Tucson Favorite" award by Tucson Newspapers.
The American Antique Mall is clean, spacious, well lit, secure and professionally managed.  Knowledgeable and courteous salespeople are available to answer your questions and be at your service.  Merchandise is organized and displayed in such a manner that you will truly enjoy your shopping experience here!  Antiques are added DAILY to the mall's expansive inventory.  The mall is approximately 7,500 square feet in size and contains the proprietor's items, as well as other consignor's items. We offer a customer "want list" for any items you may not be able to find!
Enjoy cool refrigeration air conditioning in the summer months. Wide tiled aisle ways are wheelchair friendly and our spacious fenced rear parking lot will accommodate over 50 cars, as well as room for RV's.
For your convenience, we accept all major credit cards and cash. We do not accept checks. We also offer a 60 day lay-a-way plan for more expensive items.  
In efforts to protect our consignor's fragile merchandise, we do not allow food or drinks.  We do not allow tote bags, over-sized purses, backpacks or strollers.  Please lock these items in your vehicle, or we will provide you a secure locker with lock and a key you can carry with you while you shop.  Your understanding and cooperation is appreciated!

WE ARE TUCSON'S ONLY PET FRIENDLY ANTIQUE MALL!
Tucson Indian Jewelry 1990 – 2021 © Schannep Ventures L.L.C. All Rights Reserved